How To Install A Fish Finder
Mounting a fish finder on your bass boat is, surprisingly, not actually that difficult of a job. You can absolutely do this yourself. If you're working from scratch, it will typically take 2-3 hours, even though it doesn't seem like there is a lot to do. That's because it can be a tedious process, and the most important thing to have for this job is patience, because you will hit a snag.
In addition to patience, you'll need
Fish finder head unit (duh)
Power cable
Power drill
Nuts and bolts
2 ring wire connectors
Wire crimpers
Fish wire
Duct tape
Phillips head screwdriver
Step 1. Pick mounting spot
There are a few ways to install a fishfinder at your boat's console. You can flush mount it, you can mount it to the dash, or you can mount it to the gunnel. Unless your boat comes with a flush mount bracket already installed, flush mounting isn't really a DIY option. You can purchase a dash mount that will allow you to install the fishfinder directly on your dashboard for as cheap as $30, but note that this is not possible on some boats without covering up some of your gauges. Newer boats typically have a plate in place to allow for this, while older boats often don't.
Flush mounting
The good
Directly on console dashboard
Don't have to take off and on
Unit is much harder to steal
Takes up much less space
The bad
Not possible on many boats
Much harder to remove unit
Huge pain to replace unit with different size
Dash mounting
The good
Directly on heads up display
Many dash mount brackets have space for multiple units
Easier to remove
The bad
Will cover gauges if installed aftermarket on some boats
Eats up a good bit of space
Side of console mounting
The good
Easy to install
Can be installed on any boat
Position of the unit can be easily adjusted
Unit can be easily removed and mounts can work for any sized unit
The bad
Outside of direct sight line while driving
Mount can fall down on bumpy rides depending on which mount you choose, which can be annoying.
Harder to install multiple units.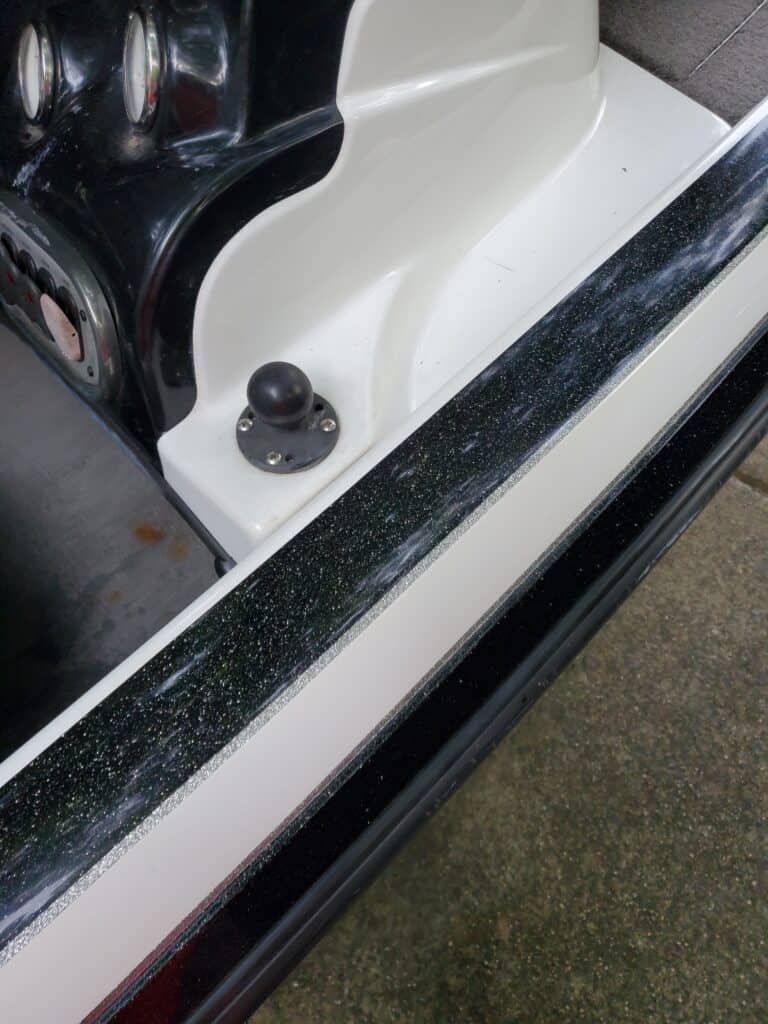 Choosing is just a matter of preference and what's possible on your boat. In most cases, we recommend mourning it to the side of the console just because it's cheap, it's easy to do yourself, and it's very adjustable. Some people like to have it directly in front of them though, and fortunately, the mounting process is pretty similar either way. Newer boats
RAM Mounts Drill-Down Marine Electronic Mount RAM-111U with Medium Arm Compatible with Garmin, Humminbird, Lowrance + More
Complete flat surface, drill-down mounting solution with an overall height of 7.35"
RAM Mounts ball and socket technology allows for near-infinite adjustability
Made of power-coated, marine-grade aluminum for durability and reliability in the most demanding marine environments
Backed by a lifetime warranty
Garmin Compatibility: ECHOMAP Plus 72cv, ECHOMAP Plus 73cv, ECHOMAP Plus 74cv, ECHOMAP Plus 75cv, ECHOMAP Plus 77cv, GPSMAP 722, GPSMAP 722xs, GPSMAP 742, GPSMAP 742xs, Striker Plus 5cv, Striker Plus 7cv, Striker Plus 7sv.
PROcise Outdoors DEK-It Boat Fish Finder Mount - Fish Finders & Depth Finders, Fish Finder Mounts for Boats, GPS Electronics Fish Finders Kit, Portable Mounting Accessories, Dual Unit Dash Mount
QUALITY TESTED: Dek-It Boat Fish Finder Mount and accessories are tried and used by Bassmaster Brandon Palaniuk in the biggest bass fishing league in the world. Our mount was tested for quality, function, and performance. The Dek-It mount is the ideal way to mount a graph on a boat.
KEEP YOUR GEAR IN PLACE: Keep your console electronics right at your fingertips with the Dek-It boat fish finder mount. Our fixed and stable mount keeps your console electronics centered right in front of you when mounted on the Dek-It boat mount. The mounting hardware can be installed on most boat consoles with flat faces.
DURABLE CONSTRUCTION: Dek-It fish finder mount is engineered from quality materials and designed to last. This mount comes with an amazing finish and is great for use on your boat, whether you're fishing or cruising around. Made out of 3/16" thick, chemically etched aluminum with a strong bond of black outdoor grade powder coat, it stays sturdy in any weather condition and is compatible with most fish finder models.
VERSATILE DECK MOUNTS: Your fish finders' hole patterns are made to fit multiple brands of graphs and electronics, including Humminbird, Lowrance, and Garmin. Adjustable mounting feet allow for installation in many different situations. If needed, additional holes can be drilled for a custom fit.
MADE IN THE USA: All our products, such as the tool keeper, Dek-It Mounts, and cull keeper, are made in the USA. Our Dek-It Mounts are easy to install, made with robust construction, and fit nearly all boats with a recessed foot pedal. Get tournament ready with one of our great products!
Step 2. Installation
Mounting
Installing the actual mount is very easy. If you're mounting to the console, measure to ensure the center of the mount rests in the center of the console. If you're mounting to the gunnel, just ensure there's enough room for the width of the head unit once the mount is put together.
Once you've decided on a location, simply line up your pilot holes with the holes in the base of the mount, drill, and then screw the mount in. Because it's above the water line, you don't have to worry about sealing anything. Then you just assemble the mount and attach the head unit to it via bolts and nuts.
Step 3. Running wires
Without a doubt, the biggest pain in this process is running power, networking, and transducer cables to the unit. It's not a complex process, it's just a very annoying one. Your boat should have a power hookup directly under the console (see photo below), so the power cable isn't too hard. You'll need a phillips head screwdriver, two ring wire connectors, and a head lamp is not a bad idea. Attach the ring connectors to the two exposed wires at the end of the power cable, then screw the red wire to one of the open terminals that should be under the console and screw the black wire to the ground post.
If your new unit required a new transducer installation, that's where the pain can come from. You'll fish wire or some kind of nylon string and some duct tape. If you already have a transducer installed, you can tape the fish wire to the plug end and pull the wire out from the back of the boat, pulling the fish wire with it. Then it's a matter of taping the plug end of the new cord to the end of the fish and pulling it back through.
If you did not previously have a transducer and you have to run a whole new cord, you'll have to work the cable through the boat. This process is different depending on how your boat is set up, but most bass boats have removable plastic bins in the back compartments. Once you push the plug end of the cable through the clam shell on the back of the boat, you can usually remove the bin and access the cable. Here, you can tape it to the fish wire and push the fish wire through the boat to the console. You may need to remove the throttle plate if you find you're getting stuck before the cable reaches the console.
Once the head unit is installed and the cables are in place, it's just a matter of plugging everything in and making sure it works. Depending on your unit, you may need to select the correct transducer type in the settings of the unit, but most of the time these things are pretty plug and play.